Partners of the Inclusion in Sport (iSport) project met virtually on Wednesday, February 24, as the two-year project, co-funded by the Erasmus+ Programme of the European Union, officially got underway.

The iSport Project looks to promote diversity and social inclusion in sport by enhancing the sporting experience of all participants – athletes and volunteers, especially targeting women, LGBT+ and people with disabilities – and promoting equal opportunities and awareness of the importance of health-enhancing physical activity through increased participation in, and equal access to, sport for all.




An online MOOC and an interactive learning tool to help consolidate the intake of information and the opportunity of living the 'other' experiences will be developed over the project's duration, along with a final set of recommendations so that these learning experiences are transferable and can be used as guidelines for sport event organisers.

The project consortium consists of eight partners from eight countries, led by the EUSA Institute (SLO). Project partners include: Panteres Grogues Sports Club (ESP), Aristotle University of Thessaloniki (GRE), Finnish Paralympic Committee (FIN), University Sports Association of Poland (POL), European Paralympic Committee (AUT), European Non-Governmental Sports Organisation (SWE) and European Gay and Lesbian Sport Federation (NED).




All partners were present for Wednesday's meeting, where, following short introductions, the overview of the project was discussed, along with the aims of the project, its target groups, timeline, dissemination as well as financial aspects. The obligations and responsibilities of each partner was then presented, as well as the prescribed goals and contributions of each.

Tasks of each partner for the upcoming months were then discussed, following which an open question-and-answer session was held before the conclusion of the meeting.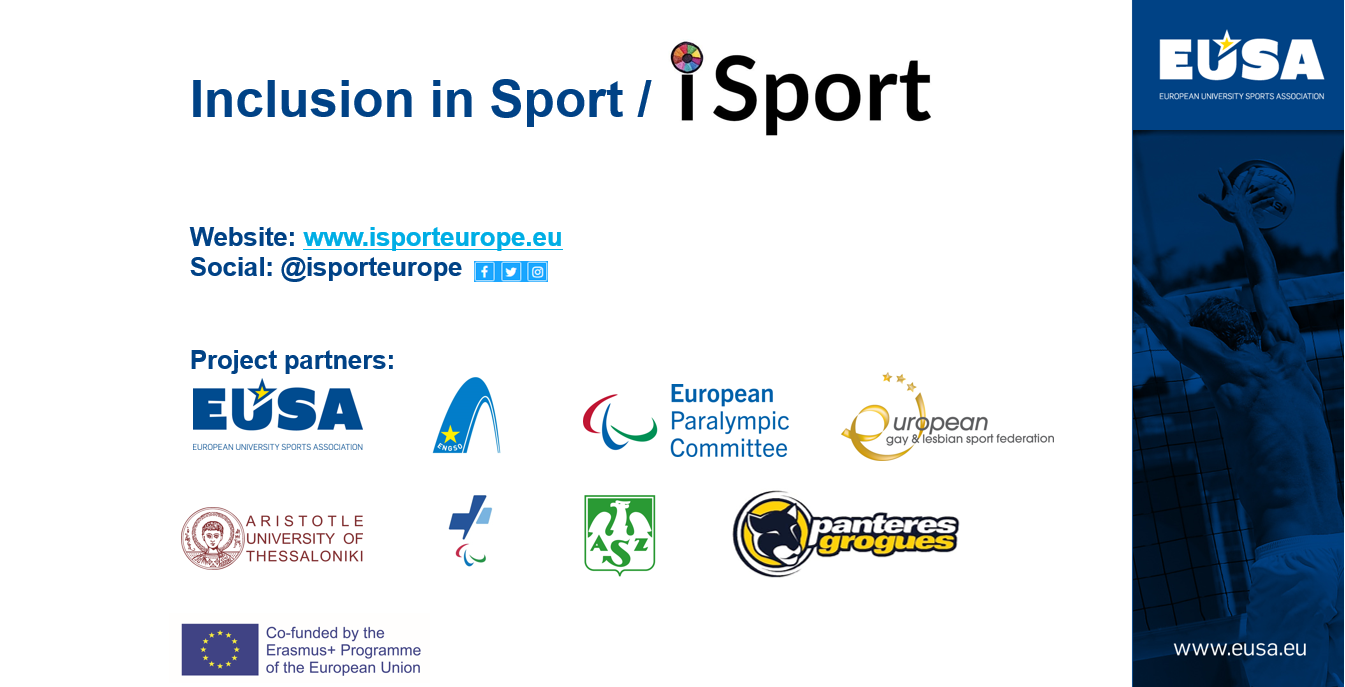 For more information about the project, please follow isporteurope on Facebook, Twitter and Instagram.